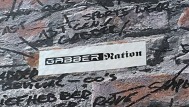 toen
15 juni 2016 t/m 27 juli 2016
GABBERNATION
Henrike Naumann
Opening Exhibition 23 july 2016 3pm - open end
Exhibition 24 july - 27 july 2016
The collective project GABBER NATION focuses on gabber culture in Friesland and on the specifics of sub-culture in the rural area. While the Heipalen sound inspired the industrial gabber bass drum of Rotterdam, the village Beetsterzwaag is a quiet and peaceful place. How does the urge for destruction, that every young soul feels, find its way in an environment like this?

For the duration of her residency at Kunsthuis SYB, Henrike Naumann, together with six German, Danish and Dutch artists, delves into the gabber culture of Friesland and Germany. What does it look like now and what preceded it? They visit historic places, music events and other gatherings whilst creating an archive of photos, videos and paraphernalia.
alles over dit project »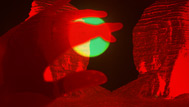 nu
01 augustus 2016 t/m 25 September 2016
BURN SCAPE
Helen Dowling
Een school tropische vissen. Ze schieten zenuwachtig door elkaar heen begeleid door het geluid van een knapperend vuurtje. Dan drie vrolijke twintigers snorkelend in een knalroze oceaan. Tussendoor een opname van het wateroppervlak vanuit de koele diepte met daarachter de felle zon en op de soundtrack het scherpe snerpen van cicaden. Helen Dowlings The Burning Time Slideshow(2015) heeft een merkwaardig aangenaam effect op de kijker. De film is een prikkelende, associatieve montage van kleuren, beelden en geluiden waarin je nog net een doodgewone vakantievideo kunt herkennen. Een betoverende duik in ons collectief vakantiegeheugen.
naar projectpagina »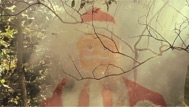 straks
24 September 2016 t/m 24 September 2016
THE ONE MINUTES IN KUNSTHUIS SYB
The One Minutes
On Saturday 24 September, as an extension of Helen Dowling's final presentation of her residential period at Kunsthuis SYB there will be a screening of three The One Minutes Series:

-we do the voodoo, initiated by Helen Dowling
-Communication with the non-human, curated by Melanie Bonajo
-Making Hybrids, curated by Janis Rafa

Helen Dowling (1982, UK) works with video, photography and digital imaging. In the coming weeks with Kunsthuis SYB as her base, she will be exploring the Frisian Islands and the Frisian coastline in search of visual and audio material which resonates this landscape's specific quality. In her editing room she cuts her recorded material mixing it with found images and sound from around the world, in pursuit of a common ground where the artist and viewer are able to meet in a shared emotional and sensory sensitivity.
Every Saturday during her stay in SYB, Helen Dowling will show a stage of her work in progress, enabling regular visitors to follow her intuitive and capricious creative process.
lees persbericht »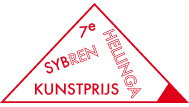 nieuws
26 augustus 2016
LONGLIST 7e SYBREN HELLINGA KUNSTPRIJS
De longlist van de 7e Sybren Hellinga Kunstprijs is bekend. De programmeringcommissie van Kunsthuis SYB selecteerde uit alle 179 inzendingen 26 kunstenaars:
...
meer nieuws »