3 January till 12 February 2013
Residency Hedwig Houben, Bas Schevers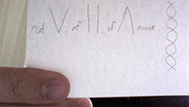 You are at the umpteenth opening and from experience, you know how the evening will go. Familiar scenes unfold before your eyes. Just when you have snuggled up in your comfortable role, two wineglasses fall at the exact same moment. That is odd. Then you see how a photographer takes a picture of a photographer and all of a sudden, you notice that, for quite some time, someone has been studying an empty corner in the exhibition space. The whole evening appears to be a script. You find yourself in a performance of Bas Schevers, an artist who, with teasing pleasure, stings the world of art and pokes while continuously asking himself the same questions: What is it like to make art? How exactly does a work of art come about? How does an art object manifest itself in an artificial space such as an exhibition hall?
Hedwig Houben shares Schevers' fascination with the nature of the creative process, but in her performances, videos and lectures, she chooses a more analytical approach. In her performances, with titles like Five Possible Lectures on Six Possibilities for a Sculpture, she investigates the urges to make something, the aim of the creative process and the (im)possibilities that force the artist to make choices. Hedwig Houben has thrown herself into her subject with a tangible eagerness, a tenacity that seems to makes an infinite series of self-reflecting performances possible. As in a kaleidoscope, the subject is multiplied, mirrored, rotated and compacted further and further.
Hedwig Houben and Bas Schevers have worked together in the past, but never found the time and space to engage in a dialogue, about the subject that drives them both and leads them to many conscious and subconscious choices regarding their work, with each other. In SYB, they finally have the opportunity to query each other in a collective creative process for six weeks. To start with, they both choose one element from a piece on the condition that this element has slipped into their work and unintentionally determined its identity. The artist will call this element a 'frame', a tool. The frame offers a context, a starting point. From there, everything is open.
Bas Schevers (1977, NL) did the postgraduate programme of the St. Joost Academie in Breda and studied at the HISK in Ghent from 2008 to 2009. His work was shown in a large number of group exhibitions in the Netherlands, Belgium and further abroad. His performances and video pieces were part of several exhibitions and festivals, including STUK, Leuven (BE), Antakya Biennale, Antakya (TR) La Belle Alliance, Plataforma Revolver, Lisbon (PR), Qui Admirez-Vous, La Box, Bourges (FR), Forms Of Organisation #1, The Red House, Bulgaria (BG), Plateaux festival, Mousonturm, Frankfurt (DE). This summer, the aforementioned performance was part of the Incubate festival in Tilburg, the Netherlands.
Hedwig Houben (1983, NL) studied at the academy of art in Dusseldorf and Breda, and from 2010 to 2011, she stayed at the HISK in Ghent. Her performances, videos and lectures were part of several group exhibitions and festivals, including Making is Thinking, Witte de With, Center for Contemporary Art, Rotterdam (NL); La Salle de Bains, Lyon (FR); Playground festival, STUK, Leuven (BE); Found in Translation, Casino-Luxembourg, Luxembourg (LU); Manufacture, Parc Saint Léger – Centre d'art contemporain, Pougues Les Eaux (FR); Sober & Lonely Institute For Contemporary Art, Johannesburg (SA). Recently, she did a solo show in P/////AKT Amsterdam and in Moira, Utrecht.
Working period:
3 January till 12 February
Opening hours working period:
Every Saturday and Sunday from 13:00 till 17:00
Final presentation:
Saturday 2 February, 15:30 hrs