10 February till 18 March 2014
Review by Brenda Tempelaar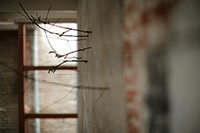 Many people in Amsterdam sing on their bikes. In Beetsterzwaag too, the difference being that the song of a cyclist in Beetsterzwaag is brought about by a blissful feeling of simplicity, significance and regularity. A rare form of happiness that can be found in traversing one and the same pattern day in day out. In Amsterdam on the other hand, people sing out of insanity, wedged in by the walls of Dutch society in which current affairs go according to plan. In Amsterdam, cyclists have right of way over road-crossing pedestrians. If this escapes your attention for a moment you'll quickly be reminded of it by the loud moans and groans of the crossing pedestrian who has not taken well to your deviant behaviour. If you're still inclined to sing after this kind of Amsterdam confrontation then it's just to rid yourself of the regulations we impose on each other.
In Amsterdam insanity can be found on the street. In a man speaking to himself, the nervous twitches of a young man uncontrollably revealing himself to society, and yet no one really takes any notice. It has its own place within the system of social stipulations and passes over us just as easily as well-meaning solidarity at a zebra crossing. Visual artist Domenico Mangano (1976) swapped this (and other) social misconceptions for a residency in Kunsthuis SYB. In a place of norms and values, Beetsterzwaag, insanity is no less present, at most just less visible. And is it not precisely there, in the transition area between the invisible and the visible, that the artist can play a significant role? At the same time it raises questions about the aestheticisation of insanity and the manner in which one generally distributes value judgments as one pleases.
In Mangano I encountered a rare form of sensibility with regards to the traversing of fragile border areas between moralisation, aestheticisation and romanticisation. He devoted his stay in Kunsthuis SYB to achieving an insider position in De Wissel, a health care institution that strives to allow people with a mental health disability to lead independent lives. Mangano became part of daily life in De Wissel, a micro-society with its own activities, rhythms and amusements. During this process Mangano wasn't looking for what he as an artist could say but what this society could tell him. Without a predetermined plan, without set expectations, he began to capture the residents on camera. It quickly became clear that he wasn't waiting for the perfect, documentary portrait – the sensitive picture – but for the insignificant moments. Moments in which the 'ordinary' presents itself. At the end of his residency, Mangano showed a short, provisional montage of these images together with a selection of photographs, drawings he was given by residents of De Wissel, books that have inspired him and a subtle intervention of small twigs that he pricked through the holes on the wall made by preceding artists to hang their work. During our meeting, a smiling Mangano told me about how, in the presentation of his work, this installation was destroyed by children and residents of De Wissel as they came to admire his work, although without any conventional sense of art, let alone how to deal with it.
The informal character of his presentation, together with the way in which Mangano was able to get people in front of his camera means that I, as a viewer, can mirror myself in his interpretation of the ordinary and can conceive my own herein. He permits irony in his presentation, without ridiculing his encounters. As I'm sat looking at the video I catch myself having to stifle a laugh upon seeing a woman imitating Jennifer Lopez from a video clip on the telly. Behind her a woman looks on whilst being rocked back and forth by a moving bed. After a while the dancing woman notices the camera but the realisation that she's being watched doesn't change a thing about her performance. The unposed character of this scene is disarming and yet I still have difficulty in letting the outside world know how funny I find it. A little later Mangano himself is laughing because of Henk, who is showcasing his new sunglasses and doing a report on this in unintelligible Dutch.
In the back of the presentation space, on the garden side, Mangano shows drawings by the residents that depict a childish imagination: many of the drawings take the form of a pizza, which can be ascribed to Mangano's Sicilian origins. Although these drawings somewhat swerve from Mangano's true interests, they show a sensitive insight into the workings of our intellect, upon which one can project endless theories of philosopher's such as Freud or Foucault. This also turns out to be correct as the 'The History of Madness' by Michel Foucault can be seen on the table on which Mangano presents his research. But I suspect that Mangano will never secure these links in an artwork. On the contrary, he is specifically interested in opening up diverse ways of thinking and increasing social acceptance.
This undoubtedly will not be the last we hear of Mangano's project. Although he displays various initiatives and the video montages are promising, it seems that none of the methods employed are suited to capture what has happened to him as a familiar face in De Wissel in the past weeks. What his presentation shows is a quest for a translation of real encounters in a fitting representation. Achieving a position as an insider after all demands a human presentation of the work, instead of a representation in an Amsterdam gallery.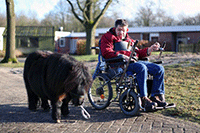 translation: Jenny Wilson