17 January till 7 February 2014
Review by Anne van Leeuwen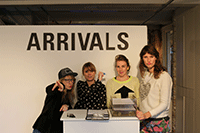 Upon entering Kunsthuis SYB you immediately find yourself eye-to-eye with a monumental wall featuring big black letters spelling 'Arrivals'. The clean-cut white wall would be reminiscent of a museum ticket desk, were it not for a lady behind a tiny reception expressly requesting you to fill in an 'arrivals form'. Sitting on one of the chairs in the friendly yet strictly surveyed waiting area of Anouk van Reijen, you're asked to write down your name and particulars, as well as your jobs, interests, and sources of inspiration. Once everything is filled in and signed, the receptionist hands you your ticket (floor plan of SYB at GATE A) and the cord is lifted. A staff member wishes you a pleasant journey, and from that moment on you are officially checked-in at Flight Base.
The journey quickly transgresses in time and scale, because after the first gate you reach a re-staging of the moon landing. On a large screen eight girls, creeping low and concealed in plastic among other things, travel through a grey and arid landscape. In a semi-ritualistic moment, they eventually stake a small American flag in the barren-looking earth. This work by Liz Dautzenberg was filmed in the Craters of the Moon monument in Idaho; the Apollo astronauts actually trained here for future space travel missions in 1969. The self-carved raindrops and drawings, which alternate the film, are evocative of early experimental film and therefore give the entirety a light undertone of Le voyage dans la lune.
The spatial trek through SYB continues at GATES C-F. On the way to GATE C you pass a small work by Marjet Zwaans. This isolated Dimensions Variable consists of an empty balloon with a 1-centimetre line drawn on it. The line is clearly distorted by the balloon shape, thus raising questions about international dimensions in Flight Base. But what is the exact relation of this work to the other gates, and how does the dimension shown here relate to the other works in Flight Base? Another type of confusion arises further along at GATE C, where a row of little tables are ranked opposite a coffee and cookie presentation. Following Van Reijen's tightly choreographed entrance, this coffee corner appears a little confusing, even as an installation. Yet, with striding insight into its purpose, the journey – after only just being underway – whisks us back to that preliminary cup of coffee in the duty free zone.
The path around SYB's old inner walls leads to Dautzenberg's – literally vacuously installed – toilet area. The transparent dotted lines and text make a clear distinction between the public part (outside the toilet area) and the private space (inside the dotted framework). The border between public and private is again openly questioned in a text that repeats itself on the toilet paper, which is also the title of the work: When private becomes public. Leaning against SYB's wall, this phantom toilet is very much bound to a specific place in SYB. Dautzenberg seems to follow a new course entirely compared to her earlier 'universal' space flight. Does this toilet also refer to the merging or infringement of private and public during the journey? And does this dotted space still bear a relation to SYB's toilet upstairs? Here too, the seeming incoherence of the arranged works raises all sorts of questions concerning the status of this journey (all in?).
Through GATE E, you eventually enter Laura's Bolscher's work. Bolscher has chosen the back room surrounded by old walls as a starting point for her residential journey. There's a cockled curtain nailed into a window frame (with the price tags still on the slats), a corner filled with slanted flooring, a screen comprising wood, and carpet hung on the wall, a roll-down shutter installed on an abandoned threshold, and an inclined window hoisted into an opening in the wall. In the middle of the walled-in space is a grand object, also erected from wood; its shape somewhere between a vault and an overturned gutter. The wooden sculptural interventions in the space reflect Bolscher's vision onto SYB's walls, as well as her overall sensitivity for spatial interpretation. You don't have to think long about the work, seeing as Bolscher is there in person and happy to offer you further information. She explains that starting with the idea of a flight base, she originally contemplated placing things a little crooked and letting them rise up and ascend, but after several other options she finally settled on the idea of bringing SYB's departed space back and "to make it more 'actively' departed." After carrying out the first spatial interventions – such as the 'LCD screen' on the wall – Bolscher thought it still kept too much to the walls. That's why she decided to install a zebra crossing in the middle, because "a zebra crossing is always the connecting space, it could also have been a traffic light, but it ended up being a zebra crossing." Absent Ages and the Zebra is such a typical Bolscher work, originating from the elated associative whirlwind that surrounds her. Or as Bolscher sums up on her website: "My work suits every child from 6 to 96 years old. The work doesn't answer, it asks a question. The work plays a joke, you laugh. I think about a thought, insanity pops up, the thought is thought over and over and over again."
Bolscher's work, at first sight, is in danger of getting bogged down in an impulsive stream of personal associations, but the result in SYB is surprisingly clear and can even be dubbed domestically sculptural. The spatial interventions have something disarming in their spontaneity and directness. Nevertheless, many loose ends are still left hanging in mid air. For instance, Bolscher herself is emphatically present in and around her GATE, but her role towards the public is perhaps ill-considered, for as a result of her strong presence Bolscher misses the opportunity to strengthen the work. It is this relationship between her work, her personality, and her audience, which could be developed much further and with more focus.
"Your attention please, we wish to inform you that (name), born in (place of birth), has completed an education at (school), has a fascination for (fascination), and is strongly influenced by (name of influence), lives and works in (place), and is present at this exhibition."
With an almost science-fiction-like clarity, the authoritarian voice echoes through the space. As soon as the woman begins to speak, all talking in SYB ceases. At several minute intervals, all visitors present are called and their previously registered personal details are publicly broadcasted. In this continuation of Van Reijen's The Biography of the Visitor, the visitor is confronted by the relentlessness of a system that makes everything that is private public in the name of safety. At the same time, the friendly yet also rigid broadcasting voice produces a reaction that speaks volumes about our current social media obsession. GATES translates our mostly visual preoccupation with the other into a general audible form. Curiosity into the other's biography interrupts everything.
The departure point of this residency as a journey – as a flight base where you can just check-in – has a lot of potential. It opens up a space for the exchange of experiences, perspectives, and encounters which could be more than just fleeting. For instance, a very productive exchange could have taken place between Bolscher's slightly eccentric chaos and Van Reijen's tightly directed presentation during Flight Base. Bolscher's work – and in particular the public reception of her work – benefits from such a degree of control. And a more reflexive focus also seems to emerge in a small wooden tile that Bolscher added – with gluey edges – to a battered and half-tiled wall in SYB. Gently removed from the tightly fixed connection of the historic tiles, this action in its all simplicity delivers a powerful annotation to the existing space.
translated by: Jenny Wilson